Understanding the numbers . . .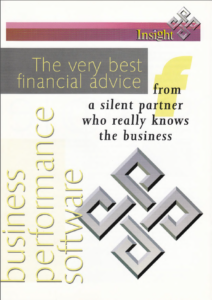 Whether you're a CPA in private practice, a corporate financial controller, or the "accountant" in a small business,
Insight will help you understand the numbers, provide better financial advice, and get the most out of any business.
CPA in private practice – to generate income from consulting to your small-business clients.
Corporate CPA – to translate financial goals (from your Board, Bank or Boss) into meaningful financial targets
Small business operator – to extract the best possible cashflow, profit etc. from your business
Other professionals – to learn to read and analyse financial statements "like a Pro"
Insight features that help you understand . . .
Du Pont performance measurements
KPIs for the business
View Filtering – see only what's relevant to you
"What Ifs" – financial modelling of worst-case/best case scenarios
"If Whats" – how to reach pre-set financial goals
Inbuilt HELP – field by field including management tips
Watch our short video if you are unfamiliar with Insight:-
Reviews
"Stand-out product."
"I think it is great software and the principles are fantastic and have lasted for ages."
"I use Insight with larger clients who have bank debt, in particular, to show them how the bank would view their figures."
"I like the way it's set out now and the 'What … If' / 'If … What' features especially.  It's a great program.  Thanks for creating it."
To download a Trial version, please provide your email address:
Or purchase now for USD399 (AUD499).